brazilian, latin & jazz music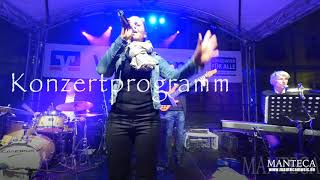 The MANTECA Piano-Trio with female singer around drummer  Juergen Peiffer, plays elegant Latin & Jazz music, smooth and energetic at the same time, entertaining with style and class – highlights of brazilian Bossa Nova, Samba and Jazz. The Latin-Band are seducing the audience with great emotions and a touch of Latin joyfulness. Brazilian music is our passion.
---
MANTECA plays concerts on festivals, jazzclubs, as well as company and privat events. The large repertoire gives the band for every Gig, the right selection of  music.  Experienced musician guaranty great quality in performance.
---
MANTECA plays in the basic formation with Berthold Matschat – piano, Fritz Roppel – bass und Juergen Peiffer- drums. Singer Sabine Kuehlich or Felicia Touré compliment the band. The cast to the appearance may vary.